All the products in our comfort category have their own individual features. The information below provides a summary of these features.
Neo G

Neo G are medical product innovators of 'Class 1 Medical Devices', supplying medical professionals, therapists and sport markets worldwide with creative orthopaedic solutions. All Neo G products are manufactured in ISO, CE and MHRA (Medicines and Healthcare products Regulatory Agency, UK) registered factories in Europe. All Neo G products offer cutting edge technology, use medical grade quality materials and are developed by fully qualified orthopaedic device designers.
What can the Neo G range offer you?

Neo G offer a dynamic range of medical grade orthopaedic and sports supports for all ages, body types and events. From knee, ankle, wrist and shoulder supports/braces, through to specialist supports which help aid specific injuries and rehabilitation, such as clavicle braces, arm slings, pregnancy corsets/supports, hernia supports, bunion splints and more.
Gelovations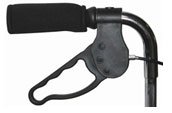 Gel Ovations provide pressure and comfort solutions to wheelchair and mobility aid users. All Gel Ovation Products, Idea's and Inventions have a common objective, to make people SMILE!
S – Soft Cool Gel. All of the product range incorporates a soft cool gel in various forms. This is an ideal product to protect the skin against surfaces that are hard and unyielding and offer little or no protection to the skin.
M – Maintenance. Gel Ovation products are designed to be easy to clean and maintain. Many come with either a durable Neoprene or Dartex surface. These can be cleaned with any detergent and offer a surface that is highly efficient at distributing pressure, protects bony prominences and reduces the risk of shear and abrasions.
I – Instant Solutions. When pressure is an issue people often need to find an instant solution. That is why all gelovations products are designed to be easy fit. Most are either Stick On, Velcro or can be clamped or bolted into place with simple brackets or bolts.
L – Look Good = Feel Good! All of the products are created to look and feel great. We want them to look as if they were an original part of the wheelchair or mobility aid but also add that little bit of extra comfort, as there is nothing worse than an unsightly modification on an otherwise fantastic piece of equipment.
E – Economical. When you put all of the above together you can see why many people enthuse about the economical aspects of Gelovations products. When an instant solution is found there is often no need for a repeat clinic assessment or home visit. This saves costs on time and transport but most importantly gives you an instant solution and eliminates the risk and cost of pressure sores.
Greencare Cushions
Greencare cushions are made from a visco elastic memory and high resilience laminated foam core, and feature a water resistant upper cover and nonslip underside to hold the cushion securely. The composite cushion construction meets ISO 7176-16 standards. As can be seen on the below pressure test, the greencare cushion provides a better seating solution than a standard 1" (25mm) foam cushion.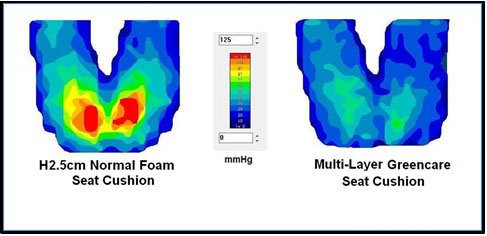 Be the first to know about our special offers, subscribe to our newsletter >>