Choosing the Right Scooter for You
Anyone struggling to carry out their daily routine due to limited mobility can benefit from a scooter, whether it is to move around their property and garden, visit the local shops, visit friends or explore places further afield independently. Mobility scooters are easy to use, economical to run and require low level maintenance to look after them.
Before you look at a range of mobility scooters, you will need to consider quite a number of factors to find the best fit mobility scooter for your needs. Always compare prices of scooters, and services such as maintenance contracts. Compare many scooters, and always test the stability of the machine yourself, and read the manual before you make the important purchase.
Here are some useful questions to help you decide the type of scooter you should consider.
Where will you be using the scooter mostly?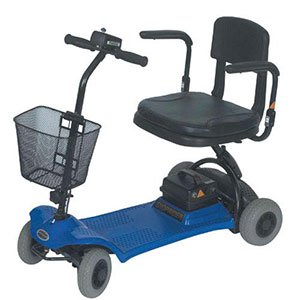 If you will be using it mostly indoors, it will need a small turning radius, be easy to manoeuvre, and compact. You may also want to consider a scooter that folds down for easy storage if you haven't got much space. Consider portable scooters with low speed.
If you will be using it mostly outdoors, it will need to be a stronger scooter than a portable one, so it can handle the uneven ground outside. Stability and speed is important, so go for a scooter with 4 wheels. It may be worth choosing puncture proof tyres if you know you will be covering stony ground regularly.
Outdoor scooters come in two types, the 4mph version, which is suitable for driving on pavements only, and the 8mph version, which can drive on pavements at 4mph and on roads at 8mph as long as it is fitted with headlights, indicators, rear view mirror, horn, brakes and rear reflectors.
The disadvantage with outdoor scooters is that they are larger, and have bigger turning circles making them harder to manoeuvre. However, they will go longer distances, over more challenging ground.
How far do you wish to travel in your scooter?
The further you wish to travel in your scooter, the longer your battery life and power will need to be. Small, fold away scooters will not go as far as a larger, 4mph outdoor scooter, or even a 8mph scooter.
If using your scooter outside, will you need to go up hills or up and down curbs?
If you need your scooter to do either of these, you will need 4 wheels and extra power. Test your scooter out before buying it to check it can handle the slope to your front door, or behind your house on the route to see your family.
Will you need to drive your scooter where there are no pavements, such as on the road?
Check your local laws. A scooter that drives on the road must be able to travel at 8mph, have working headlights, tail lights, indicators, horn, brakes and rear view mirror before it can go on a public road. You do not however need a car driving license, just be over 14, and entitled to use a mobility scooter for health reasons.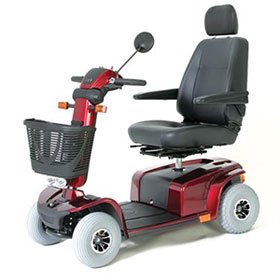 Does your home have restrictions on the scooter & where will you store it?
Look at the width of your front gate, and avoid buying a scooter that you will not be able to access your property with, unless you plan to widen the gate.
Look at the width of your front door, if you plan to keep or use the scooter indoors and the garden. Can you fit the scooter through the front door? If you don't plan to use it inside, where will you store it outside, do you need a secure container?
Are there steps up to your front door? Will you need a ramp, or will it be more practical to store the scooter in an outdoor, secured location out of the weather?
Is there much room to store the scooter inside? Do you need to fold it down or dismantle it to fit it into the space?
If you live in shared accommodation, or a block of flats, and plan to keep the scooter in the hallway, will your landlord consent, or can they help with alternative storage solutions?
Does your storage location have a mains power point?
Does the place you will store your scooter have a nearby power point for recharging the batteries? Is it suitable to install one, if not?
Will you be comfortable sat on your scooter and while driving?
Make sure your scooter has enough leg room to accommodate your legs, particularly if you are tall, or cannot bend your legs very far. Consider a model with a swivel seat to help you get on and off the scooter, or improved suspension for your comfort when travelling over uneven ground.
Consider your height and weight. Don't sit in a position that will cause you extra aches and pains. Can you turn tight corners and still be in control of the scooter with your hands? Do the controls need moving to help you reach them or use them?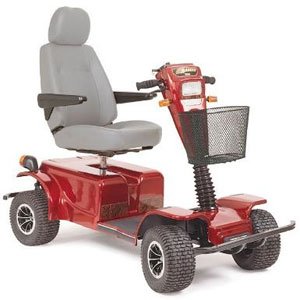 Will you need to transport your scooter in the back of a car?
Foldable scooters will fold down into the back of cars, or dissemble for reassembly at your destination – without the use of tools.
Seek advice from your supplier on the suitability, ease of assembly and size of the scooter with respect to transporting it. Scooters that dissemble will often come apart in pieces such as the chair, rear wheels, front section and battery, not only making it easier to fit, but reducing the amount of weight that needs to be lifted.
Decide who is most likely to be dismantling and putting the scooter into the car. Is it manageable for them, and are you still able to safely get into the car? Will you need a small hoist fitted in the car boot, or would it be better to have a ramp?
Do you want to take the scooter on public transport, such as train, bus, tram or taxi?
Scooters are unlikely to be accepted in taxis or on public transport, unless the user can demonstrate they can fold or dismantle them to go on the transport, and the user can sit in a standard seat. A powered wheelchair is more widely accepted on public transport, within size restrictions. Seek professional advice if the use of public transport is important to you, and you are considering a mobility scooter.
Be the first to know about our special offers, subscribe to our newsletter >>